LIFESAVING SA AND DHL LAUNCH​
Lifesaving SA and DHL Launch
an online water safety learning platform
Every year, hundreds of families across South Africa lose loved ones in preventable drowning accidents. For youth 17 and under, drowning represents the second highest cause of accidental death after road accidents. The highest percentage of deaths are in children aged 1-9 years. This problem is not unique to South Africa, but follows trends seen globally, where 90% of the world's accidental drowning deaths occur in middle to lower income countries. (World Health Organization)
Following on from the success of Lifesaving SA's WaterSmart School programme, in partnership with the Department of Education and DHL, Lifesaving SA has launched a free online e-learning WaterSmart hub, making water safety content accessible to all South Africans.
While water safety training does take place in South Africa, its reach is limited. This is because programmes currently depend on in-person instruction conducted by volunteers, such as those working with Lifesaving South Africa (LSA).
In 2016, Lifesaving SA launched WaterSmart, a paper-based educational programme written for the Department of Education Life Skills Orientation curriculum for grades 4-6. Since its inception, each year 50 lifeguard facilitators present this programme in hundreds of underprivileged schools, thanks to the sponsorship from corporates such as DHL, who through its partnership with Lifesaving South Africa, connect people and help save lives.
In 2021 the KZN Department of Education partnered with Lifesaving SA where 6700 teachers and supervisors were trained to present the programme in their classrooms. In 2022 the programme was presented to 607 770 learners in more than 6000 schools, reaching over a million learners to date. 
The DHL Lifesaving WaterSmart Online Hub seeks to address the problem of drowning in South Africa by teaching learners about the various dangers water poses, empowering them to better manage risks and maintain a constant awareness and vigilance whenever water is around.
The hub includes animated video content and interactive quizzes and spot the risks, making it fun and easy for children to learn about water safety and prevent drowning. The characters and scenes are presented in a simple, easy to understand format, allowing a greater audience to be reached. The content draws upon materials already developed by LSA for in-person training, including the character of "Resci," who guides learners through the content. Teachers and parents are guided with learning plans, downloadable resources such as workbooks, readers, and posters to assist with delivering the programme to their learners and after each module is completed the learner is presented with a certificate.
Jed Michaletos, Managing Director of DHL Express South Africa, expressed his delight, adding, "As a business, we talk about delivering excellence in a digital world, so when we had the opportunity to work with the Lifesaving SA team to digitize their learning materials, we jumped at it. This will increase the reach of the programme dramatically through ease of access – and really help deliver the message of water safety, to all. This project is a true demonstration of our organisational purpose, of Connecting People and Improving Lives."
With summer having finally arrived after a long and wet winter, DHL and Lifesaving SA want to ensure that children are taught how to be safe around water to prevent unnecessary drownings because one life lost to drowning is one life too many.
Access the hub using the button below or scan the QR code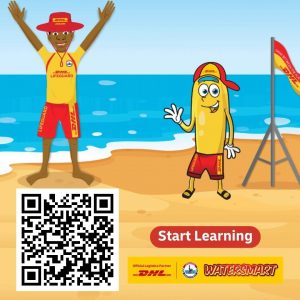 book a watersmart presentation
at your school or club
A CAPS CURRICULUM BASED EDUCATION PROGRAMME DESIGNED FOR GRADES R TO 6. IN CLASS PRESENTATIONS BY CERTIFIED FACILITATORS. SURVIVAL SWIMMING PROGRAMME DESIGNED FOR ALL AGES.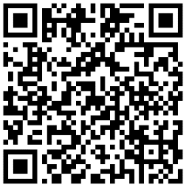 For further information, please contact Lifesaving South Africa on (031) 312 9251 (office hours) follow Lifesaving South Africa on social media @LifesavingSouthAfrica.